[1.22 GB] The Silvery White Ixia (Yukinokoubou) [Ver 1.01] [Cen] [2018, JRPG, Emotional / Touching, Pure Love, Violation, Interspecies Sex] [jap]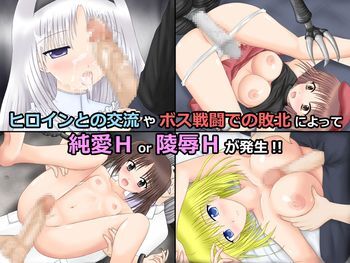 The Silvery White Ixia / 白銀 の の イクシア
Year of release: 2018
Release Date: 2018/04/06
Genre: JRPG, Emotional / Touching, Pure Love, Violation, Interspecies Sex
Censorship: Yes
Developer / Publisher: Yukinokoubou
Type of publication: Original (licensed)
Tabletka: Not required
Version: 1.01
Language of the game (plot): Japanese
Interface Language: Japanese [123 ] Voice Language: Japanese
System Requirements (Minimum): HDD 1.2GB
RPG VX ACE
Description:
ENG
* The Game's Features *
Enjoy An Authentic RPG WITH Erotic Features As Well!
WHEN YOU ARE DEFEATED BOSSES, THE GIRLS IN YOUR PARTY ARE R * PED!
Enjoy Test Battles and Situations in This Game!
Also Enjoy Love-Filled Sex with the Girls in Your Party …
A Game Where You Can Experience Love and R * PE !!
* Battle System *
"The Silvery White IXIA" Incorporates An Active Time Battle System.
Both Enemyes and Allies Have Action Gauges, Allowing You to Enjoy a Thrilling Battle.
As You Input Commands for Your Characters, The Action Gauges Will Stop,
Allowing You to Plan Your Next Move.
* Growth System *
Each Character Can Learn a Special Ability Called "IXIA".
THERE ARE Different Systems for Learning IXIA, Which Broadens Your Strategy During Battle.
in Addition to Raising Your Characters, Choosing Which Character To Use in Battle Is Another
Fun Part of this Game!
* Sex Scenes * [123 ] – Includes CG Mode!
– Includes Reminiscence Mode!
– Over 60 CGS Including Variations!
– Over 50 Sex Scenes!
This is Yukinokoubou's First Workinokoubou'S First Work, Who PouredTheir Soul Into Both The Story and The Sex Scenes.
Please enjoy playing "The Silvery White IXIA"!