[1.28 GB] Slave Doll (Ep. 1-3 of 3) + Slave Doll 2 (EP. 1 & 2 of 2) / Maid to Order / Fragile Hearts / Kowaremono 1, 2 / Slave Doll 1, 2 (Soft On Demand, Lantis, Beam Entertainment) [UNCEN] [2000-2001, SCI-Fi, Androids, Maids, DVDRip] [JAP / ENG / RUS (Part 1)]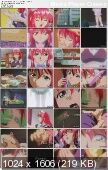 Slave Doll – Maid to Order
Kowaremono
Slave doll
Year of release: 2000
Country: Japan
Genre: Scifi, Androids, Maids
Duration: 3 series for 30 minutes [ 123] Translation: English dubbing, English built-in (octable) subtitles, Russian external subtitles, Russian amateur voice acting (external)
Russian subtitles: SRT, translation: mik (series 1-3);
Max 1 from Novosibirsk ( Series 1), Santa Mitya Aka Morda and Jedi_SN (Series 2), Andretti Falkone (Series 3)
Censorship: No
Studio: Soft On Demand
Description: Aki IS An Andromaid, Half Android, Half Maid . Created to Infiltrate The House of Kenichi, She Disguises Herself AS An Ordinary Housekeeper. Her Mission Is to Capture a Sample of Kenichi's Superior Sperm, But She Ends Up with More Than She Bargained For. Will Her A.Ndroid Heart Find Love After Comforting Her Sad New Master?
Quality: DVDRip
Format: OGM
Video: 640×480 4: 3 23.976 FPS DivX3 (~ 930 kbit / s)
Audio 1 : japanese 2.0 STEREO VORBIS (OGG VORBIS) (~ 60 kbit / s)
audio 2: Russian AAC 48000Hz 2.0 STEREO 48KHZ 160 KBPS
Audio 3: English 2.0 STEREO VORBIS (OGG VORBIS) (~ 60 kbit / s )