[1.31 GB] D-Fantasy 2 Samurai Shojo SOshitsu / Saint Knight Defloration [Cen] [2012, Animation, Flash, 3DCG, Tentacles, Big Tits, Rape, Anime, Warrior, Liquid / Juice, Anal, Blowjob] [ jap]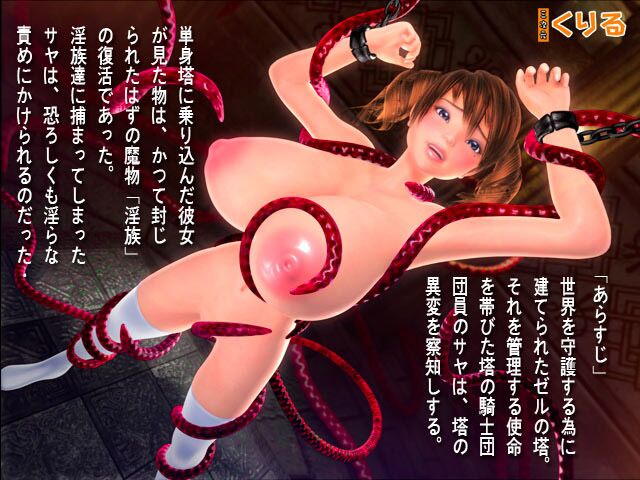 D-Fantasy2 Seisen Samurai Shojo SOshitsu / D-Fantasy2 聖戦士 処 女 喪失
Year of release: 2012
Release Date: 2012/12/01
Genre: Animation, Flash, 3DCG, Tentacles, Big Tits, Rape, Anime, Warrior, Liquid / Juice, Anal, Blowjob
Censorship: There are in the game (Games) Distribution-Developer / Publisher: Kuriru (くりる)
Platform: PC / Windows
Type of publication : License
Tabletka: Not required-Language of the game: Japanese
Interface Language: Japanese
Voice Language: Japanese
System Requirements :: :: CPU CELERON 1.4GHZ :: RAM 2GB :: HDD 1.3GB: : – Footage: Pleasure to take the virginity of brainwashing game Mujahideen and creature Corps.
Guests Can Enjoy A Naughty Mood 3D Animation One After Another Every Time You Clear!
Quest Will Rise But Stress-Free, CRISP GAME WILL Proceed With A Simple Operation.
After Clearing All You Can See Is Free at Any Time to Switch to Browse Mode.
The First Half of the Operation of the Trial Version Quest Because IT IS Made Of! Flash Will Enjoy Pies Continuous Blow & Infinite Continue Blame Until The Fainting Warrior Woman Late Been Brainwashed Pleasure, The Quest Lost Virginity With the Tentacles.-extra. Information: dlsite.