[1.35 GB] Crossing Knightmare [Cen] [2013, JPG, Bukkake, Rape] [jap]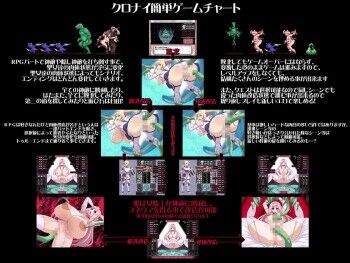 Crossing Knightmare / Crossing Knightmare ~ 穢れ逝く 聖女 達 へ の ~ ~
Year of release: 2013
Release Date: 2013/4/26
Genre: JRPG, Bukkake, Rape
Censorship: Any game (Games) Distribution
Developer / Publisher: Ki-Software
Platform: PC / Windows
Publication Type: License
Tabletka: Not required
Game Language: Japanese
Interface Language: Japanese
Voice Language: Japanese
System Requirements: Pentium
1.8GB HDD
Description: This Game Within The Explore The Fantasy World
Girl Has Been Subjected to Body Remodeling Various Nevertheless,
Those WHO Believe Their Own, RPG Carry On The Adventure for the World,
It's a game of the Will Manipulate From Behind the Scenes Kuroki Your Desires a Saint of Our Such Shiroki Think It Glorified.
Body Remodeling IS Subjected Woman KnighT to Be Manipulated, to Princess
Change by Selecting Them to their Preferences Quests There Are Many,
You Can Enjoy The Body Further Change Also Depending On The Combination of The Quest.
Graphic Design Was Based on Good Old Dot Design Somewhere,
BUILD RPG TURN-BASED SYSTEM OF SURFACE CLEAR TYPE OF SIMPLE DESIGN,
WHILE SUBEXED TO BODY REMODELING EVEN LOST THE QUEST BOSS, IT WILL NOT BE GAME OVER,
QUEST THE NEXT, That Can Also Be Welcome to Ending On Top of That
and it is with your website Easily.
The Remodeling of Various Combinations for Those Whow Want to Play a Whole Bunch,
MultiPle Endings, Such As the True Ending Is Also Available,
Even Light Users Who Enjoy Easy Erotic Scene Hard,
Also Core Users Who Want to Enjoy a Mix-Up of Games and ErotIC
and it is to make to be able to enjoy.
Add. Information: JapDlsite.