[1.51 GB] Tomorrow's Yukinojou (EP.1-4 of 4) + Prequel (EP.1 & 2 of 2) / Ashita No Yukinojou + Masaru Ashita No Yukinojo 2 / Tomorrow Southwerry + Prehistory (Elf / Pink Pineapple) [PTCEN] [2002 -2003, Romance, School, DVDRip] [JAP / RUS]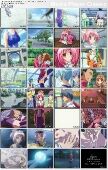 Tomorrow's Yukinojou
ASHITA NO YUKINOJOU
Tom Tom Tomorrow Yukinloz
Year of release: 2002
Country: Japan
Genre: Romance, School
Duration: 4 Series 25 min
Translation: External Russian subtitles (ASS), translation: svoychuvak
Censorship: yes
Original Creator: ELF
Production: Pink Pineapple
Description in English: Kasuga Serina Is a Cheerful Girl and Enjoys Her School Life. One Day, She Meets A Handsome Transfer Student, Yukimura Yukinojo, Who Acts AS If He Were IndiFerent of Others. Despite His Behavior, She Cannot Help Caring About Him. (ANN)
Description in Russian: Casuga serina lives and rejoices with his school life. Once she meets the new student who is also beautiful, Yukimura Yukinojo. But he behaves as if they are completely equalEashes to each other. Despite his behavior, a serine for some reason is not indifferent to it.
Quality: DVDRip
Format: AVI
Video Codec: DivX
Audio Codec: MPEG Audio (MP3)
Video: DivX 5 640×480 23.98fps [Video 0]
Audio: MPEG Audio Layer 3 48000hz Stereo 128Kbps [Audio 1]