[1.59 GB] Mirror Mine [INPROGRESS, V0.12.6] (Lemonkey Games) [UNCEN] [2019, Adv, 3DCG, Male Protagonist, MILF, INCEST, VOYEURISM] [ENG + RUS]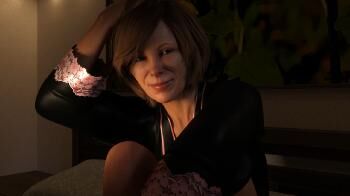 Mirror Mine / My reflection
Year of release: 2019
Release Date: 2019/05/01
Genre: Adv, 3DCG, Male Protagonist, MILF, INCEST, Voyeurism
Censorship: None / There is a patch for Delete
Developer / Publisher: Lemonkey Games
Translation: Kirill Shiyan (Group Patchwork)
Platform: PC / Windows
Type of publication: in development
Tabletka: Not required
Version: v0.12.6 (rus_eng)
Language of the game (plot): English + Russian
Language of the interface: English + Russian
Voice Language: Unknown / Other
System Requirements (Minimum): OS: Windows, Linux , Mac; HDD: 636 MB
Description: You finally come from college home, and lately everything is not so good. Your father left – not that you were especially close, rather, on the contrary. But what's worse, you also do not have money. T.Ak what now you have come back. To live at home again with all the limit arising from here.
You will choose between two ways – love or disquality. Scenes and finals will vary greatly depending on which of the two ways you choose!
You're Finally Coming Home From College, And Things Hasn't Been Great Recently. Your Dad Left – Not That You've Particularly Been Close, Quite The CONTRARY. But to Make Things Worse, You're Also out of Funds. SO NOW You're Back. Living At Home Again Wild All The Restrictions It Entails.
You'll Be Choosing Between Two Paths – Love or Corruption. The Scenes and Endings Will Differ Greatly Depending on Which of the Two Paths You Choose to Embark!