[1.64 GB] Mizuki Island / Misurao Island (Masurao) [Cen] [2013, Animation, Flash, Simulation, Straight, Bikini, Oral, Pazuri, Sleep Assault] [JAP]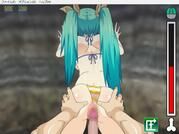 Mizuki Island / ミズキア イランド / Mizuki Island
Year of release: 2013
Release Date: 2013/05/20
Genre: Animation, Flash, Simulation, Straight, Bikini, Oral, Pazuri, Sleep Assault
Censorship: There is in the game (Games) distribution
Developer / Publisher: Masurao
Platform: PC / Windows
Type of publication: License
Tabletka: Not required
Language Games: Japanese
Language Interface: Japanese
Voice Language: Japanese
System Requirements: WindowsXP / WindowsVista / Windows7; CPU Pentium4; RAM 512MB; HDD 1.64GB
Description: The guy is washes off from a cruise liner overboard during a strong storm and throws on the uninhabited island. Fortunately, the same thing happens with a beautiful girl, and now they have to live for several weeks together until they find rescuers.
Special problems with survival is notNut, for the guy has a hand (works in a car operator), and on the island is full of game and fish places. That's just the experience of communication with girls does not have, so the chance to fix such a serious gap for him as Manna from heaven. Well, a girl, seeing that the guy, though shy, but not at all, he penetrates with mutual sympathy, and the island gradually turns into their personal paradise, from which it does not want to leave.
Extras. Information:
DLSITE
Developer's website
The game is most similar to the "Suzuki melody" from other Masurao games (http://pornolab.net/forum/viewtopic.php?t=1122349), only mini Games this time more active. One is a fishing, where you need to hold the balance of fishing rods with the mouse buttons and attract the fish with a wheel, the second is the usual shooting gallery, where you need to shoot moving goals (SHAY DICEMENT) With the probe.
The heroine is completely announced, which greatly facilitates its replica
in the distribution there are already my salary (with a fully open gallery), so if you want to open everything yourself, you need to delete all files with "Save" in the name.