[1.84 GB] Mononokei Kanojo ~ Inkya Desu Ga, Koishite II Desu Ka ~ (North Box) [Cen] [2020, Adv, Animation, Big Ass, Big Tits, Neko, Oral Sex, TitsJob] [jap]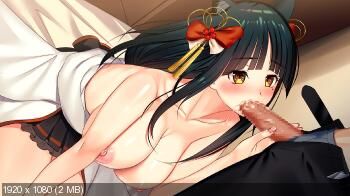 Mononokei Kanojo ~ INKYA DESU GA, KOISHITE II DESU KA ~ / モノノ 系 彼女 ~ 陰 陰 キャ です が が 恋し 恋し 良い 良い ~ ~ ~
Year of release: 2020
Release Date: 2020/02/28
Genre: Adv, Animation, Big Ass, Big Tits, Neko, Oral Sex, Titsjob
Censorship: Yes
Developer / Publisher: North Box
Platform: PC / Windows
Publication Type: Pirate (Unofficial )
Tabletka: Not required
Language of the game (plot): Japanese
Interface Language: Japanese
Voice Language: Japanese
System Requirements (Minimum): OS: Windows XP / Vista / 7 / 8/10; HDD 2GB
Description: This Is The Debut Game by North Box. Yuutarou Is An Ordinary Student At Yatsuya Gakuen with a Slight Interest In The Occult. It Was The Last Day Before Summer Vacation, And He Still Didn't Have Any Special Relationships with the Girls in His Class. THAT ALL CHANGED WHEN HIS OSANANAJIMI YUUMI INVITED HIM TO COME TO SCHOOL THAT NIGHT FOR A 'COURAGE TEST' Heard Faint Laughter and Turned Around, And Yuumi Had Alady Dashed Out Of Sight. The Strange Creaking and Sounds of Running … COULD THIS BE THE PARANORMAL ENCOUNTER THAT HE WANTED!?