[1001.9 MB] HAREM VILLA (ANIMATED GIF + 3DCG) [UNCEN] [2017, Animation, 3DCG, Blowjob, Big Boobs, Fantasy, Incest, Milf, Mom-Son, Family Sex, Brother-Sister] [jpg, Gif]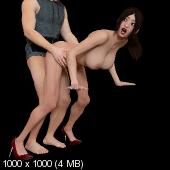 Harem Villa (Animated Gif + 3DCG)
Year of release: 2017
Release Date: 2018/11/06
Genre: Animation, Adv, 3DCG, BlowJob, Big Boobs, Fantasy, Incest, Milf, Mom- Son, Family Sex, Brother-Sister
Censorship: Missing
Developer / Publisher: Eroniverse
Page Resolution: 2048×1536 / 148×148.
Number of Pages: 1559
Format: JPG, GIF
Description: In the assembly, everything is 3DCG from the game + created by me GIF animations based on available and suitable for this 3DCG.
You are starting College and Your Mother Is Newly Director of a Villa Just Next To this College. Your Job Is to Offer to College Girls a Chamber and Make Them Taking Good Time In There.
You're Jumping Maps to Maps, Meets People, Sometime Randomly, Create A Relation and Some Time Unlock Scenes Depending Of Their Desire SCore and Your Basic Persuasion.
You Need to Persuade Girls to Join Your Villa and Get Rent.
Recommendation: Play what you can adjust the speed.