[131 MB] The Green Shadow Rachel [Cen] [Cen] [2014, JRPG, ADV, 3DCG, Rape, Fantasy, Transforming Girl, Gangbang, Urination] [ENG]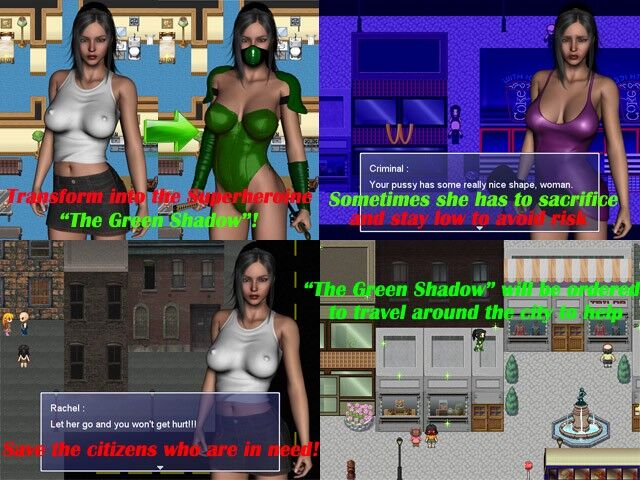 -The Green Shadow Rachel / 覆面 スーパー スーパー: 緑影 緑影 レイチェル Year of release: 2014
Release Date: 2014/01/10
Genre: JRPG, ADV, 3DCG, Rape, Fantasy, Transforming Girl, Gangbang, Urination [ 123] Censorship: there is in the game (games) distribution
Developer / Publisher: Combin Ance
Platform: PC / Windows
Publication Type: License
Tabletka: Not required
Language Games: English [ 123] Interface Language: English
Voice Language: None
System Requirements: [PC] WindowsXP / WindowsVista / Windows7 / Windows8
CRU: Pentium4 3.0GHz
Memory: 512MB
HDD: 200MB [ 123] Description:
The Crimes Are Increasing in A Small City in Recent Years. The Superhero Organization "The Earth Alliance" Has Noticed It and Sent One of Their Superhero "The Green Shadow" to the CITY FROM INCREASIN TO STOP THE CRIMES FROM INCREASING and Save the City!
Play AS "The Green Shadow" Rachel to Protect The City From Being Corrupted by Criminals! Experience The Daily Life of A Superheroine!
Content:
Above 45 Events
Above 60 Basic CG
Above 300 CG
4 Outfits That Can Be Worn in Battles
Fantasy, Transformation Heroine , Exposure, Shame, Pissing / Pee, Gangbang, Humiliation, ENEMA WILL BE INCLUDED.
Rachel's Decision Will Affect Her 'Sense of Justice'. IT Will Affect The Availability of Some Events and Lead To 3 Different Endings.
You can Replay Events in Rachel's Journal. You can Restart The Game and Keep Your Level, Equipments and Money Progress.