[146.9 MB] King On Lady 2.7.11 / Laman King / Fool (version 2.7.11) [2.7.11] (Freesweetgames) [UNCEN] [2010, Arcade, Board] [RUS + ENG]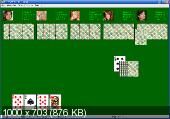 King On Lady 2.7.11 / Laman King / Fool (version 2.7.11)
Year of release: 2010
Genre: Arcade, Board, Striptease
Censorship: None / There is a patch for deletion
Developer / Publisher: FreesweetGames
Platform: PC / Windows
Publication Type: License
Tabletka: Not required
Version: 2.7.11
Game Language: Russian + English
Interface Language: Russian + English
Voice Language: Unknown / Other
System Requirements: System: Windows
Processor: Athlon / Pentium 200 MHz
Memory: 64 MB
DirectX: 8.1 or higher
Description : Playing in a card podkin and translation "fool" with an erotic bias, against 1-5 awesome girls at the same time. Curiosity game !!! The program interface looks quite trivial, but the game captures. The goal of the game is simple – FREEB "In the fool" of girls of rivals to their complete undressing.
The game implemented simultaneous actions of several players in the game – throw it before or later, walk on one or several cards at once, give in time when taking and other. A fully scalable gaming field allows you to conveniently place the game window on the monitor screen. Thanks to the simple interface, all actions are performed with one click.
Extras. Information: Supported Mode of Translation Fool
The possibility of sorting cards
Selecting the reaction rate of rivals
Installing the priority of an attacking player when taking up
The possibility of the first attack to five cards
+ 677 rivals !!!