[158.2 MB] Misty and The Tower of Paradise [1.03] (Kedama Qube) [Cen] [2014, JRPG, Fantasy, Pregnant, Rape] [JAP]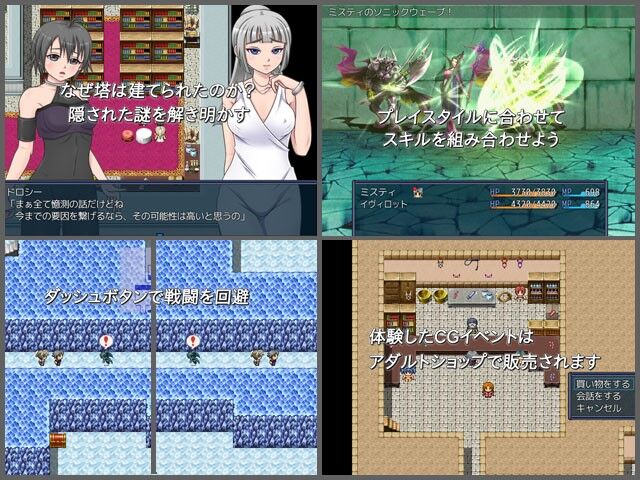 Misty and the Tower of Paradise / ミスティ と 楽園 楽園 の 塔 ~ 子 子 種 を 蒔か れる 少女 たち ~
Year of release: 2014
Release Date: 2014/01/25
Genre: JRPG, Fantasy, Pregnant, Rape
censorship: there is in the game (games) distribution
Developer / Publisher: Kedama Qube (毛玉)
Platform: PC / Windows
Type of publication: License
Tabletka: Not required [ 123] Game Language: Japanese
Interface Language: Japanese
Voice Language: Japanese
Version: 1.03
System Requirements: [PC] WindowsXP / WindowsVista / Windows7 / Windows8
CRU: PENTIUM4 2.0GHZ
MEMORY: 512MB
HDD: 200MB
Description: ◆ Story ◆
A PREHISTORICAL TOWER PREDOMINATES IN LABIGI SEA.
to Hunt Monsters Hiding In The Tower, Many Adventurers Depart Each Year from Arcanette, The Neighbor Town of this Tower. Misty, a rookie Adventurer, Was One of them.
sHE WAS DOING OKAY WHE LEARNS ABOUT THE TOWER'S SECRET AND GETS INVOLVED IN A CONSPIRACY.
What Will Happen WHE REACHES AT THE TOP OF THE TOWER AFTER LINKED WITH PEPLE IN LOVE AND FRIENDSHIP?