[174 MB] Chichiushi Monogatari (Sugar Star) [2013, JRPG, Fantasy, Anal Sex, Group Sex, Milk / Lactation, Oral Sex, Titsjob / Titfuck / PAIZURI] [jap]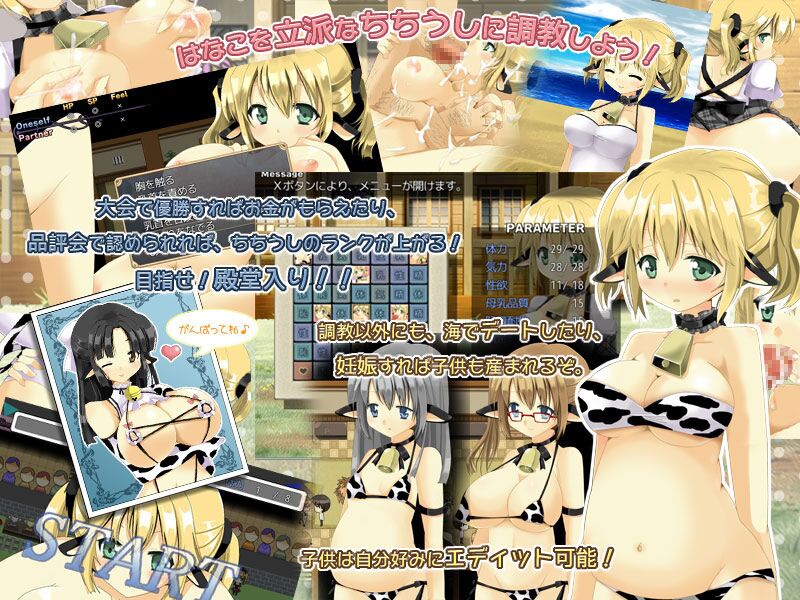 Chichiushi Monogatari / ちちうし 物語 / History about Busty Cow
Year of release: 2013
Release Date: 13/03/07
Genre: JRPG, Fantasy, Anal Sex, Group Sex, Milk / Lactation, Oral Sex , TITSJOB / TITFUCK / PAIZURI
Censorship: There is in the game (games) distribution
Developer / Publisher: Sugar Star
Platform: PC / Windows
Type of publication: License
Tabletka: Not required [ 123] Game Language: Japanese
Interface Language: Japanese
Voice Language: Japanese
System Requirements: Windows XP / 7/8; CPU Intel (R) Pentium (R) III 1.0GHz; RAM 256MB; VRAM 100M; HDD 300MB
RPG Maker VX ACE
Description:
Google Translete.
In order to pay off a loan, our main character will train the charming chicken cow.
and from the tournament, and from justice, We will strive to become a cow worthy aboutTetz.
· Experience in Many, Trying to Train A COW Chichi.
Aim Worthy Sire Observed in Fair Enough.
Human Behavior and Vary Depending On Day Five.
Also Varies Depending On the Attribute Reflect The Strength of the Enemy.
Feel Like Action Combat System.
Clothes COMING OFF OR BEING FUCKED FROM A MONSTER, GIRL If The Opponent.
(224 PIECES, INCLUDING DIFFERENTIAL) CG44 Basic Pieces
※ RPG Maker VXACE is required for the game.