[183.7 MB] Guild Traveler [Cen] [2019, JRPG, Pure Love, Cuckoldry (Netorare), Violation, Molestation, Tickling, Interspecies Sex] [jap]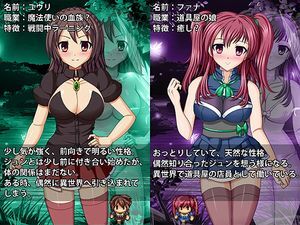 Guild Traveler / ギルド トラベラー
Year of Release: 2019
Release Date: 2019/11/24
Genre: JRPG, Pure Love, Cuckoldry, Violation, Molestation, Tickling, InterSpecies Sex
censorship : Yes
Developer / Publisher: Silent4 サイレント 4
Platform: PC / Windows
Publication Type: Original (licensed)
Tabletka: Not required
Language of the game (plot): Japanese
Interface Language: Japanese
Voice Language: Unknown / Other
System Requirements (Minimum):
RPG Maker VX
HHD 135.17MB
Description:
Jun, Yuuri, and Shin Are Suddenly Brought to Another World, and Sam, The Help of TownSpeople Fana and Sam, The Are Able to Rent a Small House.
They Take Guild Work to Pay The Bills, And According to the "Class Suitability Test", Yuuri Has Magician's Blood , and his magicaL POWER WILL GROW WHEN HE HAS SEX!
AND IN THIS WORLD, THERE ARE NO RULES AGAINST SEXUAL CRIMES.
Will The 3 Be Able to Return to the Real World Safely …?