[185.3 MB] My Darling Sister [INPROGRESS, 0.1.2] [UNCEN] [2017, ADV, RPG, 3DCG, ANIMATION, INTERACTIVE, LESBIAN, SISTER-BROTHER, INCEST] [RUS + ENG]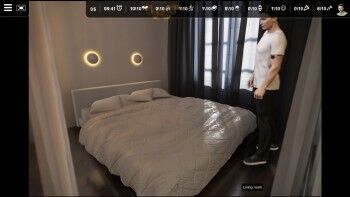 My Darling Sister
Year of release: 2017
Release Date: 2017/03/28
Genre: Adv, RPG, 3DCG, Animation, Interactive, Lesbian, Sister-Brother, Incest
Censorship: None / There is a patch for deletion
Developer / Publisher: NoteNite
Platform: PC / Windows
Type of publication: in development
Tabletka: Not required
Version: 0.1.2
Game Language: Russian + English
Interface Language: Russian + English
Voice Language: Unknown / Other
System Requirements (Minimum): OS: WinXP / Vista / 7/8/10, CPU: Pentium 4 800 MHz, RAM: 128 MB, VRAM: 64 MB, HDD: 350 MB
Description: Your name is Michael, you live with your sister and idle, you will soon come to a friend and your goal to arrange a warm welcome to her, and of course seduce her. It all depends on you.
Extras. Information: for game TThe Internet connection is required for additional downloading data
In this hand, a fully configured browser with already downloaded cache, as the game itself is updated, and the distribution itself will be updated, since downloading cache will be difficult.
Forum games here https: // forum. notenite.com
PS game in the active development stage, everything will be fixed in the following updates, spelling and text errors will also be corrected.