[192.4 MB] Imouto Nofukurami ~ Mama Ninaishono Nakade Shi Akume / Convexity Sister – Orgasm and Sperm Secreter from Mom (Milkcandy) [Cen] [2011, Flash, 3DCG, Simulator, Animation, Adv, Incest, Bukkake, CREPIE, Oral , Swimsuit, Tiny Tits] [jap]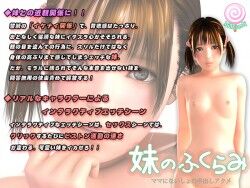 妹 ふくらみ ~ ~ に に ない しょ の 出し 出し 出し の の ふくらみ ふくらみ ~ ~ に に しょ の 出し 出し 出し 出し / imohuku / imouto nofukurami ~ mama ninaishono nakade shi akume / bulge sisters – orgasm and sperm in secret from Mama-year production: 2011/10/21
Genre: Flash, 3DCG, Simulator, Animation, Adventure, Incest, Bukkake, Creampie, Oral, Swimsuit, Tiny Tits
Censorship: There is in the game (games) Distribution
Developer / Publisher: Milkcandy (ミルク キャンディ)
Platform: PC / WindowsXP / WindowsVista / Windows7
Publication Type: Original (Licensed)
Tabletka: Not required
Language: Japanese
Type of translation: Text and sound in this language (original)
Interface language: Japanese Minimum System Requirements:
:: CPU Pentium4 2.3Ghz :: Ram 2.0GB :: HDD 300MB :: VRAM 64MB :: FlashPlayer10 :: – Description:
It happened that the guy had to teach his sisKu swim.
There was no one in addition to them …
And on her sister, swimsuit looks cool …
The guy could not holdield himself in such an atmosphere.
He felt his sister's body! Lisal her nipples, and their fingers slid into the forbidden place …
Their endless lust and forbidden love! In secret from the parental eye.
They became lovers and enjoyed.
***
3DCG Flash animation with a plot and the possibility of a little stray space (action).