[193.2 MB] InterSpecies Sex Labyrinth & The Lewd Busty Witch ~ Until Patchouli Becomes a seedbed ~ [ver. 1.3] (Kleitos) [Cen] [2018, Successive Orgasms, Vore, Gangbang, Tentacle, Interspecies Sex] [ENG]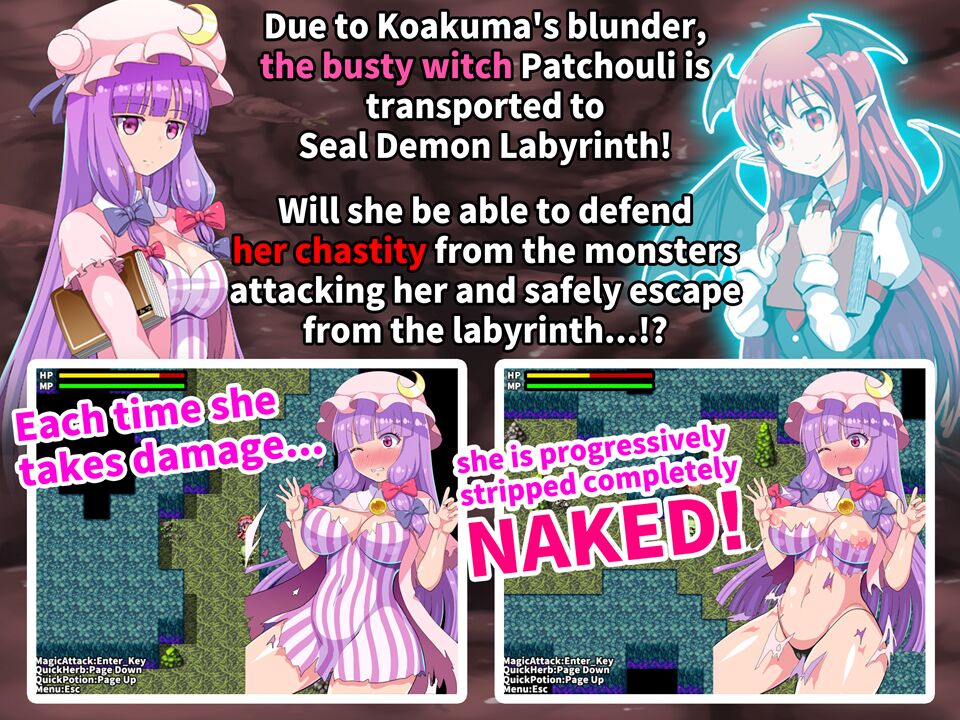 Interspecies Sex Labyrinth & The Lewd Busty Witch ~ Until Patchouli Becomes a seedbed ~ / 異種 姦迷宮 と 淫乱 淫乱 巨乳 魔法 使い ~ パチュリー さん が 苗床 に に なる ~ ~
Year of release: 2018
Release Date: 2018/05/03
Genre: JRPG, Female Heroine, Monsters, Interspecies, Successive Orgasms, Vore, Gangbang, Tentacle
Censorship: Yes
Developer / Publisher: Kleitos
Platform: PC / Windows
Publication Type: Original (licensed)
Tabletka: Not required
Version: ver. 1.3
Game Language (Plot): English
Interface Language: English
Voice Language: Unknown / Other
System Requirements (Minimum) ::: CPU PENTIUM®4 2.0GHZ :: RAM 512MB ::
:: HDD 80MB :: RPG TKOOL VX ACE RTP ::
Description:
In This Game A Lewd Busty Witch Named Patchouli Gets Imprisoned In A
Monster-Infested Dungeon and AttemptS to Escer.
This game is derived from Touhou Project, But Since It's Only Loosely Based on It,
Even If You Don't Know The Original Work, It's Still Possible to Enjoy IT Just for the Interspecies Sex.
Receiving specific lewd attacks a certain amount of times
triggers events that awaken sexual disposition skills.
Lewd attacks also raise Patchouli's climax number and increase sensitivity magnification.
her climax frequency rises whenever her sensitivity magnification rises , Andever She Climaxes
Her Sensitivity Magnification Rises … This Results In An Infinite Climax Loop,
and Since The Parameters Increase Endlessly, It's Recommended That You Enjoy It As Much As You Wish.