[2.66 GB] Kissxsis / IJigen No Kissu / Kisushisu / Kisshisis / Kiss Sisters (Munenori Nawa, Feel, BGPAC) (Ep. 01-11 of 12) [ECCHI] [2008-2014, Comedy, Romance, Incest, DVDRip] [ JAP / ENG / RUS]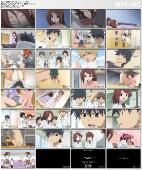 キス × シス
Kissxsis OVA
Kiss Sisters
Year of production: 2008-2014
Genre: Comedy, Romance, Incest
Series: EP: 01-11 (00-10) [ 123] Duration: 11 * 27 min
Censorship: Ecchi
Voice: Japanese Original
Voice: Russian Amateur
Subtitles: Russian built-in disabled ASS / SSA
Subtitles: Russian external ASS / SSA [ 123] Subtitles: English Built-in disabled ASS / SSA
[Ayako] and [Subdesu] [Hatsuyuki]
Director: Munenori Nawa
Original author: Ditama Bow
Studio: Feel, BGPAC (Beijing Golden Pinasters Animation Company)
Description: Keita is a simple Japanese schoolboy – a student of the third grade of high school, which is preparing to take exams in the elder school. He has two consolidated (not related blood relations) Sisters – CraseIzsy AKO and Rico, which nourish it is far from nursing feelings and show it at every convenient case – then the bed will fit into bed, then dinner will bring dinner. And then there are still classmates pour oil into the fire. And what to do a poor guy?