[204.4 MB] [Misc] ONI (Ohoni) [PTCEN] [Anal, Lesbians, Strap-on, Posing, Parody, Futanari, Monster, Bodymods] [jpg]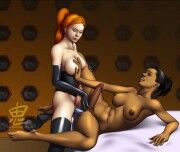 ARTIST – ONI / Collection of works
Author: Ohoni
Publisher Website: http://ohoni.deviantart.com
Distribution type: Art
Censorship: There are in some files
Genre: Anal, Lesbians, Strap-On, Posing, Parody, Futanari, Monster, Bodymods, Masturbation, Sex Toys
Page Resolution: from 391×1024 to 1827×1034
Number of pages: 949
Format: JPG, PNG
Description: Collection of works by the author oni. Many arts are marked as "Promo", the fact that the author moved to the site on a paid basis and is forced to deliberate in every way to censure his works (as a rule, it is expressed in deliberately blocking intimate places in many ways: clothes, food, toys and interior items or simply uses mosaic censorship). I did not pay for any of his work – I just gathered everything that ourl in free access.
If you have any of the works that have not included in the distribution or you simply found duplicates in the distribution, send and write here, or in the LAN and I will definitely add / correct. – Gratitude: [ 123] S43 – for providing a huge amount of previously absent work.