[22.4 MB] Brothel City [DAROT GAMES) [UNCEN] [2016, RTS, Strategy, SLG, Nudity, Erotic / Ecchi] [RUS + ENG]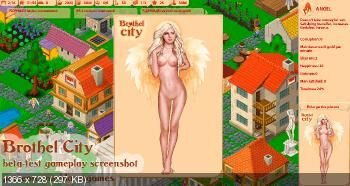 Brothel City / Public City
Year of release: 2016
Date of renovation: December 29, 2016
Genre: RTS, Strategy, SLG, Nudity, Erotic / Ecchi
Censorship: None / There is a patch for removal [123 ] Developer / Publisher: Darot Games
Platform: PC / Windows
Type of publication: demo version
Tabletka: Not required
Language of the game: Russian + English
Interface language: Russian + English 123] Voice Language: Russian
System Requirements (Minimum): Windows, 20 megabytes of free disk space.
Description: Brothel City is a real-time strategy / Simulator for the construction of pleasures in classical fantasy setting.
We suggest you are invited to try on the role of the control roadside at night, which stops passing by travelers. ButNet bed is not all that travelers need, so after hiring first girls, they will be able to warm the guests bed (naturally, too, not swinging).
As customers will fill your pockets first gold, you will have Financial opportunity to expand the range of services offered is to attach a dining room and supplying it with food from their own garden and garden, you will begin to receive additional profits from hungry guests. And yes, the waitresses and the maids in the inn of the courtyard, which wanted your sometime small at night, never against the removal of potential customers.