[238.4 MB] Tales under Sarathan [INPROGRESS, CH0.8] (Black Cat) [Uncen] [2016, Adv, Fantasy, Big Tits, Striptease] [rus]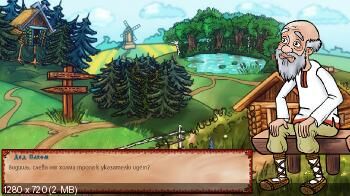 Tales under Sarathman
Year of release: 2016
Release Date: 2016/11/15
Genre: Adv, Fantasy, Big Tits, Striptease
Censorship: None
Developer / Publisher: Black Cat [ 123] Platform: Windows, Linux, Mac, Android
Type of publication: in development
Tabletka: Not required
Version: Ch0.8
Game Language: Russian
Interface language: Russian [123 ] Voice Language: Unknown / Other
System Requirements (Minimum): Windows, Linux, Mac: CPU Intel Pentium 4 2.0 GHz, RAM 512 MB, DirectX 9, HDD 350MB
Android version 4.0 and older
Description : Dear friends, we present you the game "Fairy Tales under Sarafan", which is created based on all of us familiar Slavic fairy tales from childhood, shifted on the new "adult" way.
Extras. Information: The release will occur like chapters in the books.Each chapter will contain new locations, characters, quests.
This version of the game includes a complete prologue, where you will get acquainted with the main character, his love for the near future of Barbarian, as well as with some classic characters from Slavic fairy tales.
The game is in the active stage of development. The developers are present on this tracker and love it! All content is created specifically for this game.
Installation procedure: For Windows: Copy from distribution The Sarafan-0.7-all folder to any convenient place, but watch the Cyrillic in the way to the folder.