[250.6 MB] The Prostiquest of Cosplay Nina (Prism) [CEN] [2013, JRPG, Cosplay, Masturbation, Internal Cumshot, Outdoor Exposure, Big Breasts / Big Tits] [jap]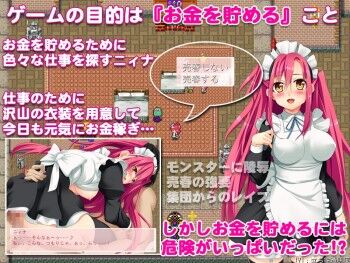 The Prostiquest of Cosplay Nina / ニィナ の コスプレ 売春 売春 ~ ~ 買い 取れ! 淫乱 治療 薬 薬!? ~
Year of release: 2013
Release Date: 2013/10/25
Genre: JRPG, Cosplay, Masturbation, Internal CUMSHOT, OUTDOOR EXPOSURE, BIG BREASTS / BIG TITS
Censorship: There is in the game (games) distribution
Developer / Publisher: PRISM
Platform: PC / Windows
Type of publication: License
Tabletka: Not required
Language of the game: Japanese
Interface Language: Japanese
Language: Japanese
System Requirements:
CPU 1GHz or greater
MEMORY 512MB OR GREATER
HDD 300MB [123 ] Video 800×600 Display
DirectX 9
Description: PERKY NINA POPPED OVER TO THE HOUSE OF HER BEST FRIEND AND GENIUS INVENTOR CLAIRE.
Knock Knock, Claire!
What ?? Claire's Not Here.
She's Probably Cooped Up in Her Research Lab Again.
Nina Saw A CuTE PINK DRINK (?) On a Desk.
Claire Must Have Left This Out for Me! She ThougoHt to Herself.
Glug Glug, Claire! Thank You!
After a FEW Minutes Nina Felt … Strange.
What's going on ?? She Thought Dizzily.
That Drink Was One Of Claire's Experiments, a Highly Potent Lust Potion!
Sorry, Claire! SO Sorry!
She Asked Her Friend for Help, But to Make An Antidote Cost More
Either Girl Could Afford. Nina Was Despondent, Then …
"I Have An Idea!"
PERKY NINA BOUNDED OFF ON AN ADVENTURE TO MAKE SOME MONEY !!
* 70 H Scenes! 28 Base CGS, Over 500 Total CGS! A HUGE VOLUME OF ADULT RPG CONTENT!