[250.7 MB] Rennyuu Tales The Animation / Love and Bysysty Stories (ARAKI HIDEKI, PinkPineApple) (EP. 1) [CEN] [2014. Students, Big Tits, Oral Sex, Paizuri, X-Ray, DVDRip] [JAP / ENG / RUS]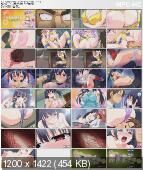 恋乳 いる ず The Animation
Rennyuu Tales The Animation
Love-Busty Stories
Year of production: 2014
Genre: Students, Big Tits, Oral Sex, PAIZURI, X-Ray [123 ] Series: EP. 1
Duration: 30 min
Censorship: Yes
Voice: Japanese Original
Subtitles: English [Subdesu-H] External ASS / SSA
Subtitles: Russian [LookerA] External ASS / SSA [ 123] Director: ARAKI HIDEKI
Original author: Momi
Studio: PinkPineApple
Description: 1 Story about the cheerleader.
The school lacks club rooms, but a support group (in the face of one girl) and a mug Karate (represented by one guy) they are very necessary, and after long disputes, the director decides while sending them to one room. Next, everything unfolds by the genre of Hentai.
2 The story takes place in the cafe "PONYS" between the waiter and aboutFizalian. The girl decides to get something from the back (using the stepladder), but suddenly falls from her on the guy. Waking up, she discovers himself on a guy who, by the way, from a shock in a shutdown, and decides to take advantage of the guy. Well, in the process, the guy wakes up, and then everything is so clear.
3 The story of the model. The girl decides to become a model and tells about this father, but the father against (allegedly does not want to leave his daughter without supervision), and here the guy (or brother, whether a neighbor), to whom the father charges to look after her daughter. The model is sad, the guy calms the model, the model is grateful to the guy and loves him. And then it is already clear. AESRT
Video Quality: DVDRip
Video Format: MP4
Video: MPEG4 Video (H264) 720×480 119.88fps 1004Kbps
Audio: AAC 48000Hz Stereo 192kbps.