[3.01 GB] Meritocracy of The Oni & Blade + Appende [Complete Edition / Multi-Language] [Cen] [Cen] [2018, JRPG, Fantasy, Big Breasts, Blowjob, Creampie, Group, Pazuri, Straight Sex, Female Heroine, JUICE / LIQUID, PURE LOVE] [JAP + ENG]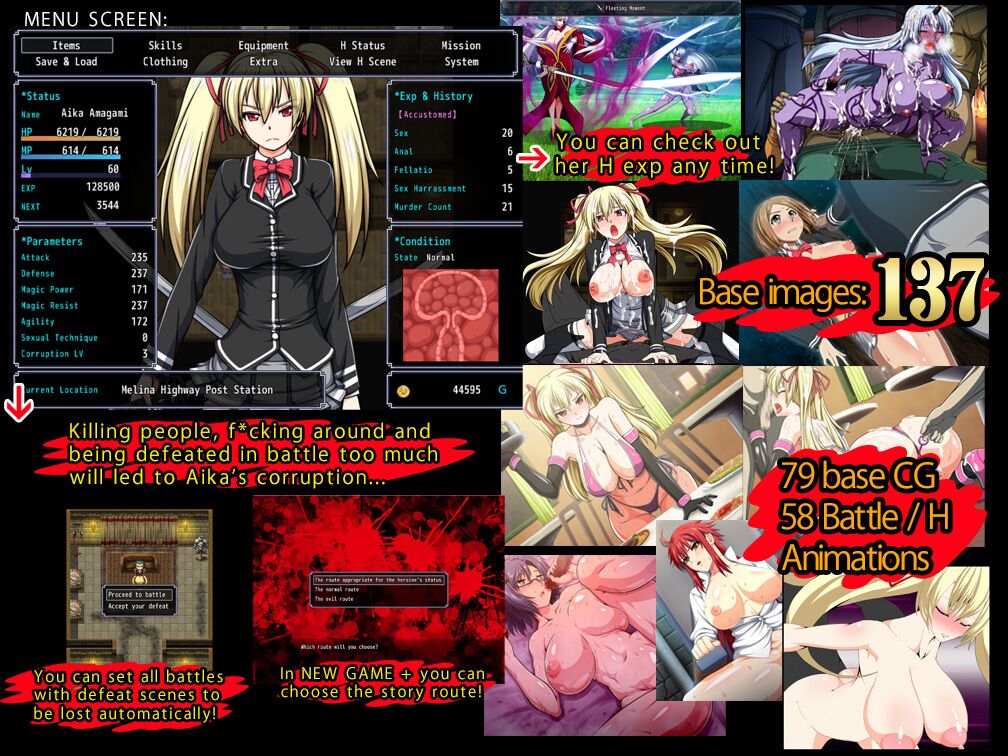 -Meritocracy of the Oni & Blade + Append [Complete Edition / Multi-Language] / 鬼 と 刀 の の
Year of release: 2018
Release Date: 2018/09/28
Genre: JRPG, Fantasy, Big Breasts, Blowjob, Creampie, Group, PAIZURI, STRAIGHT SEX, FEMALE HEROINE, JUICE / LIQUID, PURE LOVE
Censorship: Yes
Developer / Publisher: OneOne1
Platform: PC / Windows
Type of publication : Original (licensed)
Tabletka: Not required
Language of the game (plot): English
Interface language: English
Voice language: Japanese
System requirements (minimum): OS Win 7; CPU AMD ATHLON 64 X2 Dual Core 6000+ 3.01GHz; NVIDIA GeForce 8600 GT; HDD 3.5 GB
Description:
[GENRE] A MULTI ENDING ADULT ONLY RPG
10 ENDINGS
137 Base CG (63 CG + 58 Battle Animations + 18 from the append patch)
55+ Erotic Scenes
60+ Sex-Able NPCS
[System]
Battle: Side View Animated Battle
SELF DESTRUCTION: IMPLEMENTED (UNLOCKED AFTER CLEARING THE GAME)
CLOTHING Removal: Implemented (Possible After A Certain Event)
Voice On / Off Toggle: Implemented
Virgin Play: CAN Play Through the Entire Game As a Virgin.
Cross-section Cuts on / off Toggle: Implemented [ 123] Contains a Flow Chart Showing How to Complete The Game (If Needed)
* Contains Spoilers So Be Careful Before Looking !!