[305.5 MB] Samurai Hormone The Animation / Samurai Hormone (Milky) (EP.1) [Cen] [2014 SAMURAI, KUNOICHI, INCEST, BDSM, BIG TITS, Oral Sex, Straight, BDRip] [JAP / ENG / CHI / rus] [1080p]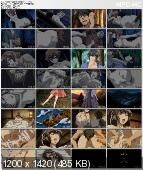 サムライホルモン The Animation
Samurai Hormone The Animation
Samurai Hormon
Year of production: 2014
Genre: Samurai, Kunoichi, Incest, BDSM, BIG TITS, Oral Sex, Straight
Series: EP.1
Duration: 25 min
Censorship: Yes
Voice: Japanese Original
Subtitles: Chinese built-in disabled ASS / SSA
Subtitles: English [Subdesu-H] External ASS / SSA [ 123] Subtitles: Russians [Vattok | Torrent Ivanivanych] External ASS / SSA
Studio: Milky, MS Pictures
Description: Hori Monjuurou (Hori Monjuurou) The teacher instructed the mission, deliver a monk and a secret scroll into a certain place. For Hori, Cuneichi Shizune is chased, with the task to select a scroll. She mistakenly calls his Horimon Juuru and the son of a leather teacher (Kojuurorta), who thinks thatAbout my father loss and stole a scroll Hori Moni …
Video Quality: BDRip
Video Format: MKV
Video: MPEG4 Video (H264) 1920×1080 23.976fps 1 639 KBPs
Audio: AAC 48000Hz Stereo 116 Kbps.