[328.9 MB] MAPLE Colors / Clear Colors (Ryou Kanda, Milky, Image House) (EP. 1-2 of 2) [Uncen] [2004 Comedy, School, Female Students, Straight, Oral Sex, DVDRip] [JAP / ENG / RUS]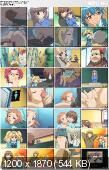 Maple Colors
Clear Colors
Year of production: 2004
Genre: Comedy, School, Female Students, Straight, Oral Sex
Series: EP. 1-2 of 2
Duration: 2 * 30 min
Censorship: None
Voice: Japanese Original
Voice: English Professional (full duplication)
Subtitles: English external ASS / SSA [123 ] Subtitles: Russian External ASS / SSA
Director: Ryou Kanda
Original author: Crossnet
Studio: Milky, Image House
Description: Aku Yoshizhiro just turned into a new school, which is famous for its theater club . On his first day, there he quarreled with Aoya Miraia. Unfortunately, it saw Aizen, head of theatrical club. Since all the problematic students of the school are collected in the class of Yoshiiro, they are all threatened to be excluded. But Eizen offers a rulerSinging the competition for the placement of the play. If the class Yoshizhiro does not lose the theater club, then no one will exclude. Most in the class of Yoshizhiro are not delighted with such an idea. Yoshizhiro should be able to convince dissenters to participate in the presentation.
Video quality: DVDRip
Video format: MKV
Video: MPEG4 Video (H264) 720×480 23.976 FPS ~ 600 KBPs
AUDO: AAC 48000HZ STEREO 128 KBPS [JAP]
Audio: Vorbis 48000hz Stereo 128 Kbps [ENG]