[35 MB] Intumption [INPROGRESS 0.1] (Dimon892) [UNCEN] [2016, Striptease] [rus]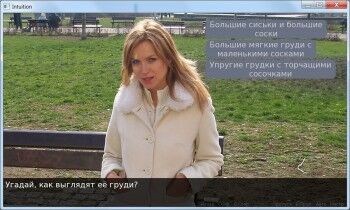 Intuition / intuition
Year of release: 2016
Release Date: 2016/01/16
Genre: Striptease
Censorship: None / There is a patch for deletion
Developer / Publisher: Dimon892
Platform : PC / Windows / Android
Type of publication: in development
Tabletka: Not required
Version: 0.1
Game Language: Russian
Interface Language: Russian
Voice Language: Unknown / Other
System Requirements (Minimum): OS: Android / WinXP / Vista / 7, HDD: 60 MB
Description: In order to break the girl you need to guess how it looks without clothes. Guess – she will tend a little. At first she will show you only the chest, but if your intuition is well developed – see the pussy of any girl for you will not be a problem
add. Information: The game is created on the basis of the free Ren'py engine. Version for Windows (mouthNovka is not required) and Android (APK). This is a trial demo version (I master Ren'py). If the idea of ​​the game is like, I will develop further. Tips, help and constructive criticism are welcome.