[35 MB] RPG2 – Roshutsu Playing Game 2 [VER1.00] (Niji Iro No Niji) [Cen] [2015, JRPG, Female Heroine, Swimsuit, Bunny Girl, Exposed, Pissing / Pee, Big Breasts] [RUS]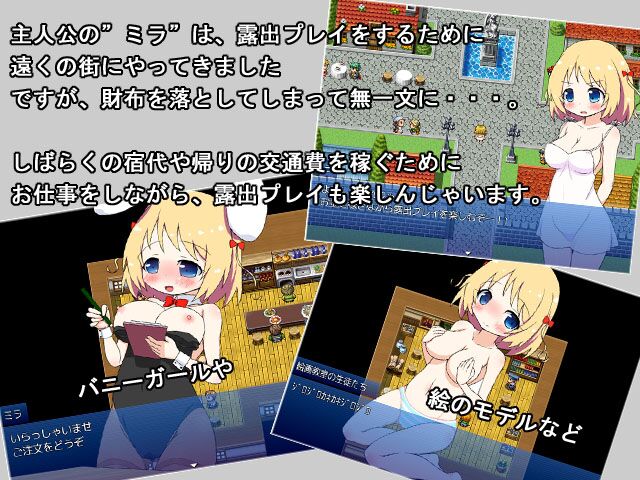 RPG2 – Roshutsu Playing Game 2 / RPG 露出 プレ イング イング ゲーム 2 お 仕事 仕事 編 / RPG Exposure Playing Game 2: Looking for work
Release year: 2015
Release Date: 2015/08/31
Genre: JRPG, Female Heroine, Swimsuit, Bunny Girl, Exposed, Pissing / Pee, Big Breasts
Censorship: Yes
Developer / Publisher: Niji Iro NO Niji (にじいろ の に じ)
Translation: ZYTA
Platform: PC / Windows
Publication Type: Original (licensed)
Tabletka: Not required
Version: 1.00
Language of the game (plot): Russian
Interface language: Russian [123 ] Language of voice acting: without words
System requirements (minimum) ::: CPU Intel Pentium4 2.0Ghz :: Ram 512MB :: HDD 100MB :: RPG TKOOL VX ACE RTP ::
Description: This is the second part of the RPG game – Roshutsu Playing Game, also translated into Russian.
The world loves to undress in publicplaces. However, this time on the way to this city, she lost her money. She can not return home or take a room in the hotel. All that she remains, it is to work for the opportunity to spend the night.
Affordable work:
– Bare girl in the bar
– Art model
– Cleancharger in the bath
Some types of work require a swimsuit, etc. d.
Other activities:
– in the hotel
– in the bath
– in the pool
"Exposure Playing Game" is a game in which the heroine is engaged in exposure in public places. Although it is a game for adults, it does not directly scenes.