[367.4 MB] Hong Lang / Crimson Wolf / Scary Wolf (Masuo Shouichi, Image Entertainment) (EP. 1 of 1) [Softcore] [1993, Fantasy, Action, Erotic, Violence, DVDRip] [JAP / RUS / ENG]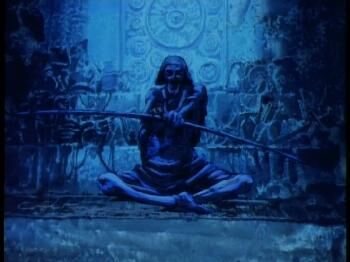 Hong Lang / Crimson Wolf / 紅 狼 [ホンラン] / Scarf output: 1993
Genre: Fantasy, Action, Erotic, Violence
Series: EP. 1 of 1
Duration: 60 minutes
Censorship: Softcore – Erotic
Language: Japanese
Voice: Original
Language: Russian
Voice: Amateur (two voices) [Kumito & Aleister ]
Subtitles: Built-in SRT Disabled [Redwolf & Alexmalkavian & Chubaka & Bor]
Language: English
Voice: Professional (full duplication)
Subtitles: Built-in disabled ASS / SSA
Director: Masuo Shouichi
Studio: Image Entertainment
Description: An Archaeological Expedition Finds The Mummified Bodies of Genghis Khan and His Army Somewhere in Mongolia. UNAWARE THAT THE LOCATION IS CURSED, THE EXPLORERS WAKE UP THE FORMER RUUR OF THE MONGOLIAN EMPIRE. HE WARNS THE INTRUDERS THAT A LARGE CALAMITY WILL BEFALL THE WORLD IN ONE THOUUSAND DAYS. The Only Ones Who Can Prevent This From Happening Are Three Persons Who Bear Wolf-Shaped Arrow Scars. They Must Join Forces and Kill The Khan's Soul Can Once Again Sleep for a Thousand Years.
Description: The archaeological expedition finds mummified bodies of Genghis Khan and his troops somewhere in Mongolia. Not knowing that the place is damned, the researchers woke up from the eternal sleep of the former ruler of the Mongolian Empire. He warns that the world will comprehend a big disaster within 1000 days if there are no three excuses of the arrow marked.
Video quality: DVDRip
Video resolution: [Ale1ster] H.264, Anamorph 720×480 (720×540), 23.976 FPS, 500 Kbps
Video Format: MKV
AUDio 1: AAC, 2 CH, 48 KHz, 144 Kbps | Language: Russian (Built-in)
Audio 2: AAC, 2 CH, 48 KHz, 98 Kbps | Language: Japanese (built-in)
Audio 3: AAC, 2 CH, 48 KHz, 97 Kbps | Language: English (built-in)
If you want: Translate, voice, distribute hentai, join our secret guild !!!