[378.4 MB] Discipline Zero / Discipline Zero (Kondou Takashi, Studio 9 Maiami) (EP.1-2 of 2) [Cen] [2010 School, Students, Teachers, Group Sex, Big Tits, Oral Sex, Rape, Femdom, Yuri, DVDRip] [JAP / ENG / SPA / POL / RUS]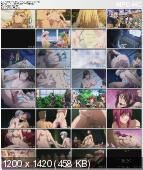 Discipline 零 (ゼロ)
Discipline Zero
Discipline Zero
Year of production: 2010
Genre: School, Students, Teachers, Group Sex, Big Tits, Oral Sex, Rape, Femdom, Yuri [ 123] Series: EP.1-2 2
Duration: 2 * 30 min
Censorship: Yes
Voice: Japanese Original
Subtitles: English [Erobeat] External ASS / SSA
Subtitles : Polish [NYAN] External ASS / SSA
Subtitles: Spanish [ANM-SSHK] External ASS / SSA
Subtitles: Russian external ASS / SSA
[Mike74 _ & _ CDMAX _ & _ VENZELL] and [NOLF]
Director: Kondou Takashi
Original author: Active
Studio: Studio 9 Maiami
Description: The action unfolds in the Privileged Academy "Holy Arkady", where the main character arrives to pass the head of study – Takuru Hayami. Previously, it was an educational institution only for deVushi, but now you are studying and young people, however, the percentage of girls is still much higher. The main character is in the hostel, where charming girls are provided by his neighbors (and how otherwise?). So his new life begins, friends and enemies appear. Unfortunately, in this paradise there is a snake, the name of which Reona Morimoto. The daughter of rich and influential parents, the younger sister of the Director of the Academy, Chairman of the Student Council "St. Arkady" and simply spoiled. Every day, Reona with sadistic pleasure degrades guys and girls – the students of the Academy, for some studies becomes hell, and some of this situation, on the contrary, brings pleasure.
Video quality: DVDRip
Video format: MKV
Video: MPEG4 VIDEO (H264) 720×480 23.976 FPS ~ 800 Kbps
Audio: AAC 48000HZ STEREo 128 kbps.