[393.2 MB] Maple Syrup / Maple Syrup (GT-Four) [CEN] [2005, Animation, 3DCG, Flash, School] [jap]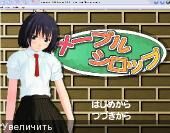 MAPLE SYRUP / Maple Syrup-Year Production: 2005
Genre: Animation, 3DCG, Flash, School
Censorship: There is in the game (games) Distribution
Developer: GT-Four
Platform: PC WindowsME / Win2000 / WinXP / MacOS9 / MacOSX
Type of publication: Original (licensed)
Tabletka: Not required
Language: Japanese
Type of translation: Text and sound in this language (original)
Interface Language: Japanese
System Requirements:
:: CPU P4 :: RAM 512 MB :: HDD 400 MB :: – Description: Kaede Nearest childhood friend and a little younger than me.
I saw it, I saw that she fell asleep while she was preparing for the delivery of the following his exam.
This is a chance to make a jerk over her ….