[393.6 MB] Gakuen Shimai / School Sister / Sisters School (AWAI Shigeki, Kino Hitoshi, Hot Bear) (EP. 1-2 of 2) [Cen] [2008 Straight, Female Students, Rape, Group Sex, Blowjob, TITSJOB, VIRGIN, DVDRip] [JAP / ENG / RUS]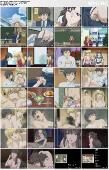 学園 Gakuen Shimaischool Sister / Sester Sester Production: 2008 01.08.2008 28.11.2008
Genre: Straight, Female Students, Rape, Group Sex, Blowjob, Titsjob, Virgin
Series: EP.1-2 Of 2
Duration:
2 * 30 min
Censorship: Yes
Voice: Japanese Original
Subtitles: English
External SRT [Erobeat]
Subtitles: Russian external ASS / SSA [LOOKERA]
Director:
AWAI Shigeki
Original work:
Kino Hitoshi.
Studio:
Hot Bear
Description: Arisa and Mika, they are nanase sisters and school super – Sharians, they are hot and cute school girls. SOUSUKE Normal schoolboy who, like all other boys can only look at the Sisters of Super-idols from afar. Sousuke loves Aris, but can not even hope that he can speak with her. But O.Mika's dance tells him that she wants to talk to him after school. After school, he meets Micah and Arisa, and they tell him that they are now his sisters! Sousuke's father, a real adventurer and mother Nanase sisters, the archaeologist met on the excavations of the ruins in South America, loved each other and got married.
Mika, Arisa and Sousuke now relatives and from now on will live under one roof … SOUSUKE should be Careful, to Mika or Arisa caught him, masturbating … or who knows, maybe they extend to him a helping hand? … what about the bath with Mikoy? … Brothers and sisters, how to share the bath together .. .
Video quality: DVDRip by [Torrent Ivanivanych]
Video format: MKV
Video: MPEG4 Video (H264) 720×480 23.976fps ~ 800 kbps [10bit]
Audio: Dolby AC3 48000HZ SterEo 192kbps.