[4.32 GB] RendezVous with Stranger: RESTRICTED Area / Randevo with a stranger: Forbidden zone (EXE-Soft, Gigabit) [UNCEN] [2009, Adv, SLG, DVD PG, Striptease, DVD5] [RUS]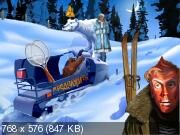 Rendezvous with Stranger: Restricted Area / Randenev with a stranger: Forbidden zone (interactive DVD) – Year of production: 2009
Genre: Adventure, Date-SIM, DVD PG, Striptease
Censorship: None
Developer: EXE-SOFT
Publisher: Gigabit
Platform: PC / Windows
Type of publication: Original (licensed)
Tabletka: Not required
b] Region: PAL
Disc type: DVD5 [ 123] Language: Russian
Translation type: text and sound in this language (original)
Interface language: Russian
System Requirements:
For the game, enough DVD player – Description: Radioactive Monsters come to your heels , bullets whistle over a long-suffering skull, but the male duty is called! A terrible monster is going to abruptly over a sexy beauty and only a scientist suffering about it can save herT hyperpotencies. On the way, the insatiable ingu (on the cover) will have to be removed, dive into the warm bed to the hostess of the hotel Snezhanne, fabulously spend time with Bolshagood Leroy … and all this in the fantastic world, full dangers and passions!