[40.8 MB] Monthly Manful (Studio Rai29, Humplex.com) [UNCEN] [2010-2015, Flash, ~ Gay ~, Bara, Masturbation, Blowjob, Rimming, Dildo, Fingering, Spanking, Fucking] [RUS]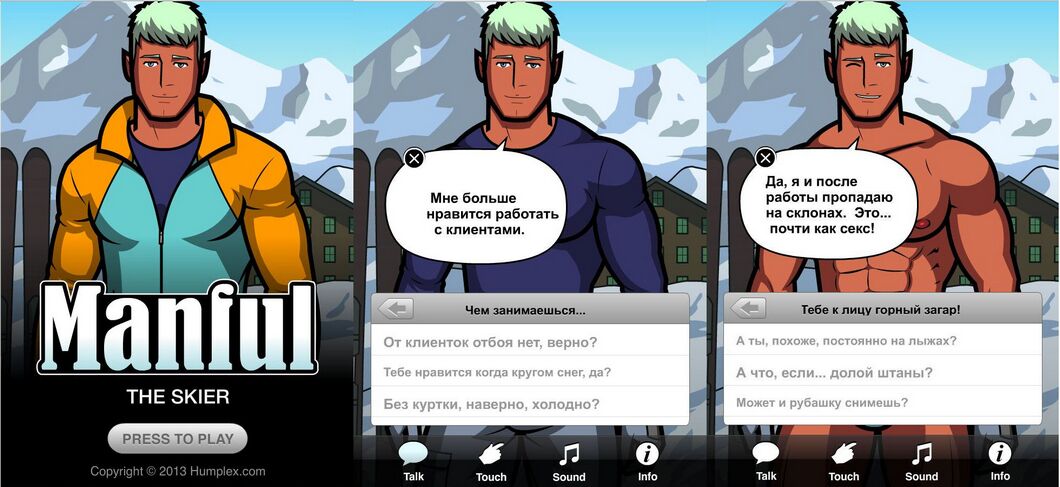 MONTHLY MANFUL translated – 11 characters
Year of production: 2010-2015
Genre: Flash, Gay, Bara, Masturbation, Blowjob, Rimming, Dildo, Fingering, Spanking, Fucking
censorship: No
Developer / Publisher: Studio Rai29, Humplex.com
Platform: PC / WindowsVista / Windows7 / Windows8 / Windows10
Type of publication: Original (licensed)
Tabletka: Not required
Game Language : Russian
Interface Language: English
Minimum System Requirements: HDD 50MB, Flash
Description: Monthly Manful is a series of small flash games created by the RAI29 studio. In each series you stay one on one with a man of any profession and your goal to spread it, and lead to seeds. And if you followed the instructions, you will get an additional ending.
The series began in2010, and due to success continues until now.
Extras. Information:
– Simulation of live conversation
– Musical support
– Different underwear
– Special endings (some interactive)
– Manuals for obtaining a special ending
– full-screen mode. To remove the game menu – double click on the picture, back too.
List of changes:
– Replicas are translated into Russian, not always literally, but at certain of the original framework. Iimo.
– Lingerie in the style of the jokstrap is replaced by the usual male. Joint Fans – Please accept my apologies.
– Small changes in graphics – like pink eyes.
Big thanks to Aploder Brenett3 for providing our original SWF files to all of us!
They are here: http://pornolab.net/ Forum / viewtopic.php? T = 1719130.And for invalid assistance in the design of distribution too!