[450.1 MB] My Sex Slave IS A Classmate / Boku No Mesu Hisho Wa Doukyuusei / My slaves – classmates (Liquid, Mangagamer) [Uncen] [2003, VN, Rape] [ENG]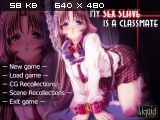 My Sex Slave IS A Classmate
Boku No Mesu Hisho Wa Doukyuusei
My slaves – classmates produced: 2003
Genre: VN, Rape
Censorship: Missing
Developer: Liquid
Publisher: Mangagamer
Platform: PC / Windows
Publication Type: Modified (DRM Free)
Tabletka: Not required
Language: Japanese (Character Votes)
Language: English (Text / Interface)
System Requirements:
Required CPU: MMX Pentium 233MHz Recommended CPU: Pentium II 400MHz
Required Memory: 64MB
Sounds: DirectSound
Required Graphics: 4MB VRAM DirectX 8
Description: [ 123] Kirishima's family has a long tradition, the head of the company should teach and save employees in sexual slavery.
Young Masato must find and raise a slave to take a father's placeThe company's rally director.
Masato's father left his slave (secretary) to help Masato find a suitable candidacy. Masato turned his eyes to his classmates, hoping to find a suitable slave among them, and found three most suitable. Now he must spend them through intense training and choose the best. Your choice will determine which of the girls is really the best slave.