[463 MB] My Fair Masseuse / SOAP NO MOKO-CHAN / My Lovely Masseuse (Watari Tonegawa / Soul Kids / Atorie ABC) (EP. 1 of 1) [UNCEN] [1996 Comedy, Straight, Oral, DVDRip] [ JAP / ENG / RUS]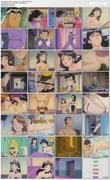 My Fair Masseuse
SOAP NO MOKO-CHAN
My beautiful masseuse
Year of release: 1996
Genre: Comedy, Straight, Oral
Duration: 00:40:33
Censorship: None
Voice: Japanese Original
Voice: English Professional (full duplication)
Subtitles: English external ASS / SSA
Subtitles: Russian external ASS / SS
Description in Russian: Moko works prostitute masseuse. She likes to work for the benefit of society, and its work just requires contact with people. Therefore, she tries to make her work very well. And it really likes her customers. That's just their praise, she imagined a little differently. But her clients continue to praise her as soon as they may: because they have not met such a pervert anywhere else.
Description in English: * Based on the manga be Kusugawa Naruo (久寿川 なる)
Moko IS A Masseuse WHO Gives Her Male Clients a Special Massage, Guaranteed to Help Them Release Stress. Of All The Women in Her Profession, Miko Is One of the Most Popular. Her Secret Is Simple, IT's Just That She Enjoys Pleasing Men So Much, That She Loves The Massages Just As Much As Her Clients Do.