[523.1 MB] Princess Knight Angelica / Himekishi Angelica / Lady-Knight Angelica (Jiro Nakano, MS Pictures, Milky) (Ep. 1-2 of 2) [UNCEN] [2008 Fantasy, Elf, Dark Elf, Rape, Tentacles , DVDRip] [JAP / ENG / SPA / RUS / GER]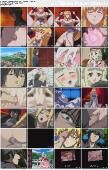 姫騎士 アンジェリカ The AnimationPrincess Knight Angelica
Himekishi Angelica
Lady Knight Angelica
Year of production: 2008
Genre: Fantasy, Elf, Dark Elf, Rape, Tentacles
Series: 1- 2 of 2
Duration: 2 * 28min
Censorship: None
Voice: Japanese Original
Voice: German Professional (full duplication)
Subtitles: English external ASS / SSA [Erobeat] [123 ] Subtitles: Russian external ASS [Svoychuvak]
Subtitles: Spanish external Ass [Ddhentaiesp]
Director: Jiro Nakano
Studio: MS Pictures, Milky
Description: A Clever and Ambitious Man IS Able to Take Over A Kingdom by Cunningly Forcing His Way Into The Hearts of the Rothschilt Family Women. One by One He Convinces Them The CAN't Live Without Him And Makes Them Into His Obedient and WillIng Sex Slaves. NOW THE KINGDOM IS AT HIS MERCY AND HIS REAL REVENGE CAN COMMENCE.
Video quality: DVDRip [WOH]
Video format: MKV
Audio codec: AAC
Video: MPEG4 Video (H264 ) 640×480 29.97FPS Bit Rate: 1 000 Kbps (EP. 1) 1 000 Kbps (EP. 2)
Audio: AAC 48000Hz Stereo 128Kbps