[525.8 MB] Buta Hime-Sama / Princess Pig (ORC Soft) [Cen] [2010, Adventure, Princess, Ahegao, Big Tits, Incest, Bukkake] [JAP]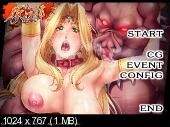 Buta Hime-Sama / 豚姫 様 / Princess-Pig
Year of production: 2010
Genre: Adventure, Princess, Ahegao, Big Tits, Incest, Bukkake
Censorship: There is in the game (Games) Distribution [CEN]
Developer: ORC Soft
Publisher: ORC Soft
Platform: PC / Windows
Type of publication: Original (licensed)
Tabletka: Not required
Language: Japanese [JAP ]
Type of translation: text and sound in this language (original)
Interface language: English [ENG] -System requirements: Supported OS *: Win2000 / XP / Wista / 7Win Recommended processor frequency / required *: pentiumiii 500 MHz MHz / 800 / Recommended memory requirements *: 256MB Description: If you like "monsters and princesses in hardcore in the thematic stories of Ecchi, you love this name from ORC Soft. Thanks to the illustrations ofThe artist Amano Ameno's popular and popular "N" artist Amano Ameno, and also completely voiced, you will see a voluptuously endowed with the princess completely in the authorities of the King orcs "and its subordinates, including all sorts of fiercely endowed with monsters, tentacles and much more. Scenes of all the most extreme sex that you can imagine packed in this game!
Extras. Information:
Official page
GETCHU
Game on Henta Buta Hime-Sama or Hentai on the game is me xs who with whom the idea of ​​a spru ..