[553.5 MB] [HCG] BUKA NO TSUMA TO IMOUTO WO NETORU OJI-SAN (CLOCK UP) [CEN] [HOUSEWIVES, BIG TITS, ANAL, BOWJOB, TITSJOB, RAPE] [PNG]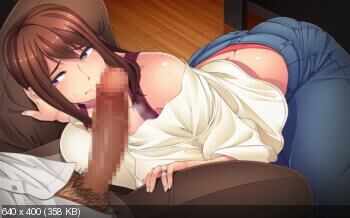 BUKA NO TSUMA TO IMOUTO WO NETORU OJI-SAN / 部下 の 妻 と と 妹 を 寝取る 上 上 上 上 (オジサン)
Developer / Publisher: Clock Up
Distribution type: HCG
censorship: there is in all files
Genre: Housewives, Big Tits, Anal, Blowjob, Titsjob, Rape
Number of pages: 572
Format: PNG
Description: And He Served As A Sales Manager Of A Leading Construction Company, Single Guy Takakura Takashi WITH Subordinates The Kazuraki Keiichi Engaged in Married Life.
Even While Showing The Face Doing The Day-to-Day Work, In The Back and Had A Life of Unlimited and Woman Play.
One Day, IT Goes Well a Little Larger Work, Takashi for a small Drinking Party of Two People Only to Take the Keiichi.
As You Carry Keiichi You Yoitsubure Weak to Drink at home, Was Welcomed Is a former Subordinate ofTakashi,
The Current and Kazuraki Yuki Greens Is a Daughter-in-Law of Keiichi, Was a Sister-Kazuraki Mako of Keiichi.
Tsuyoshi to Put and Yuki Greens Became Sexily While You Do Not See a Little, His EYES BRIGHT AND CUTE TO MAKO IN THE INTELLECTUAL.
TO WOM SAFFLE UNTIL RECENTLY HAD GONE WAS SAFFLE UNBANDLY HUSBAND, IT MIGHT BE JUST RIGHT.
"So that it is nototic by Keiichi, I Want to Take A Look at the Figure Writes in Pleasure Two People Crazy Committed in My Hand. "
Distorted Pathos Dwells in Your Heart.
Takashi Thought The Fallen and To Plan The Futari, Imagine Snow Greens and Mako Is Panting Face, Wear Alone Distorted Smile ──.