[554 MB] Discipline Ls / Discipline (Active Soft, Kitty Media) [Cen] [2009, Blowjob, Group Sex, School] [jap]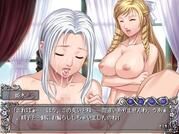 Discipline Ls / Discipline
Year of production: 2009
Genre: Blowjob, Group Sex, School
Censorship: There are in the game (games) distribution
Developer: Active Soft
Publisher: Kitty Media
Platform: PC / Windows
Publication Type: Original (licensed)
Tabletka: Not required
Language: Japanese
Type of translation: text and sound in this language (original)
Language Interface: Japanese
System Requirements:
System: Win95 / 98/2000 / Me / Xp
Processor: PentiumII 233 MHz / PentiumIIII 450 MHz
Memory: 64MB / 128MB
Resolution: 800 × 600 DirectX: 9.0c
Description: Short feathered Kdiscipline: The Recona of the Crusade / Discipline
Reona [SiC] Is Back to School …. Of Course, Her Purpose Is to Make Cute Boys Her Sex Slaves. … SHE JUST SHAGS WITH BOYS WHO ARE CONGENIAL TO HER TASTE …. IT WILL NEVER END Until She Gets Satisfied ….
Add. Information: Getchu.