[65 MB] TS · ​​Saga (I, Though King Demon Was Done · · · · · · TS.SAGA (Boku, Maou Taoshi Tanoni …) (2990) VER 2.00 [CEN] [2013, JRPG,] [jap]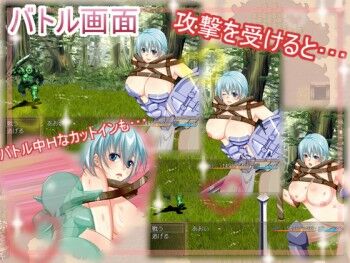 TS · SAGA (I, Though King Demon Was Done · · ·) / TS.Saga (Boku, Maou Taoshi Tanoni …) / TS · ​​SAGA (僕, 魔王 倒し た のに · · · ·) Ver 2.00
Year of release: 2013
Release Date: 2013/5/17
Genre: JRPG, Rape
Censorship: There is in the game (games) Distribution
Developer / Publisher: 2990
Platform: PC / Windows
Publication Type: License
Tabletka: Not required
Language of the game: Japanese
Interface Language: Japanese
Language: Japanese
System Requirements: Win XP / Vista; CPU Intel Pentium4 2.0GHz or greater; Memory 512MB; Video 800×600 Display or Greater; HDD 70MB or greater; DirectX 9.0a or greater
Description:
and sent one day the hero of the young kill the king of demons. And there was a battle! And the king fell!
And he cursed the hero … I cursed well – in a busty woman …
And he went to the hero medicine to look ….
Credits 4 New Ver to CloWnyxx
■ Story
Hayden Burg Knight Blue, Was Defeated At the End of the Devil Struggled GETERU.
But, by The Last Attack Of The Devil Geteru …
IT HAD BEEN A GIRL.
A BLUE WHAT CAN SOLVE THE CURSE OF DEMON
OR DO I Need to Do Ika to Live Life As a Woman
Now, Journey of "She" Began. [ 123] [H Scene Contents]
H SCENE CONTENT IS A LITTLE TOOO MUCH IS RAPE.
On the Other, There is Prostitution and Outdoor Exposure, And Different Can.
[Degree] Han
AOI , But It is a Parameter That Determines Whether or Not to return man.
The Decrease or Prostitution, or Attacked by A Monster, And You Can Lose to the Boss.
[MultiPle Endings]
Multi-Ending System Change by Special Parameter of the Blue Hero
[BreaK] Armor
by Special Attack Of A Special Enemy, Armor Hero Aoi Breaks.
[Battle] Fuck
Depending on the Situation of the Armor of the Blue Hero, Monsters Have Attacks Etch.
[ Stress IS Hard to Collect!]
Scene Recalls
There Is No Game Over
Symbol Encounter WITH
Skip Message WITH
Always Dash Mounted
Attention!
Updated to version 2.00 Pull the torrent
add. Information: JapDlsite.