[661.3 MB] Lady Thief Misery [1.00] (Almonds & Big Milk) [Cen] [2020, Action, Female Heroine, Anime, Bitch / Slut, Seductive (Submissive), Blowjob / Fellatio, Naughty / Lewd, Machine Sex, Blonde Hair, Big Breasts] [jap]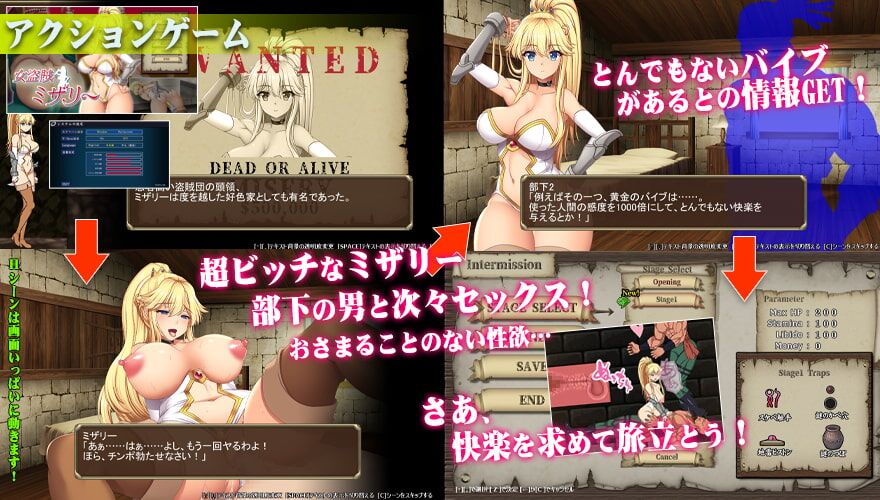 Lady Thief Misery / 女 盗賊 盗賊
Release Date: 2020/12/30
Genre: Action, Female Heroine, Anime, Bitch / Slut, Seductive (Submissive), Blowjob / Fellatio, Naughty / Lewd, Machine Sex, Blonde Hair, Big Breasts
Censorship: yes
Developer / Publisher: Almonds & Big Milk (アーモンド と 巨 牛 乳)
Platform: PC / Windows
Type of publication: Original (license) [ 123] Tabletka: Not required
Version: 1.00
Language of the game (plot): Japanese
Interface language: Japanese
Voice Language: Japanese
System Requirements (Minimum) :: :: Game SCREEN SIZE : 1280×720 ::
Description: Miseries – a beautiful woman-thief. She has a beautiful appearance, but in its abilities she surpasses all men in her gang of gangsters. In the past, she was brave and courageous knights of the royal yard. But she broke likeVenny arrangement of knights because of their campaigns on men. In the end, she even raped the prince. It was forced to flee from the country and became a thief.
She robs and rapes men of all ages. Looking for pleasures and cannot do anything about it.
Once she learns from the bandits about rumors about a certain dungeon. In which the magic items increasing the sensitivity of their owners are stored. And in the longest room as they say the Gina lamp is stored, which can make your desires reality. Her subordinates are skeptical about these rumors, and Miseri caught fire to get fabulous pleasure. She throws her gang and sends to look for a treasure in the dungeon one …
releaser can be supported materially. Details – in the signature. (The rules are read)
add. Information:
jP dlsite.