[689 MB] demon [INPROGRESS, EP1 V.0.2] (DISSOCIATION) [UNCEN] [2018, ADV, 3DCG, Fantasy, Devil / Demons, Big Breasts] [rus]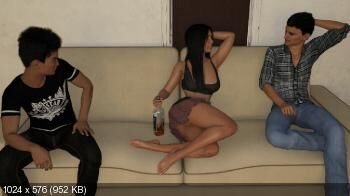 The demon
Year of Release: 2018
Release Date: 2018/11/15
Genre: Adv, 3DCG, Fantasy, Devil / Demons, Big Breasts
Censorship: None / There is a patch for removal
Developer / Publisher: DISSOCIATION
Platform: PC / Windows
Type of publication: in development
Tabletka: Not required
Version: EP1 v.0.2
Language of the game (plot): Russian
Interface language: Russian
Voice language: Russian
System requirements (minimum): CPU: Athlon / Pentium 200 MHz; DirectX: 8.1 or higher; RAM: 512 MB; VRAM: 128 MB; HDD: ~ 0.5 GB
Description: I wanted to raise a little in Daz and RPG Maker, but just something is not interesting to do so and this creation was born.
The essence of the game in a nutsheet: folder in hell became boring and he sent a couple of minions to hang it.
I warn you if you are religious, do not playThose in this, your feelings will be trampled, I don't care, and you get out of bile.