[695.1 MB] X-Change 2 (CROWD) [UNCEN] [2003, Adv, Comedy, Straight, Transformation] [RUS] [Russian voice]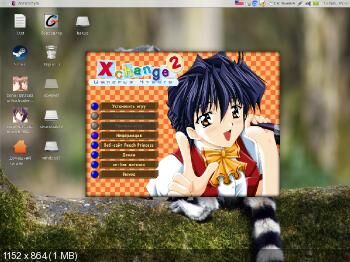 X-Change 2 / Empire of Sensories
Year of release: 2003
Genre: Adv, Comedy, Straight, Transformation
Censorship: Uncen from a delural file
Developer / Publisher: CROWD
Platform: PC / Windows
Publication Type: Original (Licensed)
Tabletka: Present
Language Games: Russian
Interface Language: Russian
Voice Language: Russian
System Requirements (Minimum): CPU 300 MHz , VIDEO 32 MB, RAM 128 MB
Description: The main hero of X-Change is a guy with the alien Russian ear with the name Takuya – as a result of a wonderful coincidence discovered himself in an unusual situation. From a noncainting onanist, he turned into a pretty young lady, behind which herds run as peers, so the school's teacher. That promises our protagonist mass of funny adventures for the most diversePieces of the body.
Add. Information: the difference between other distributions only in the presence of Russian voice acting and other translations.
PS … From myself I will say that this copy of the disk I gave me a former classmate. I have only a copy of this disk. I don't know anything else about this disk or game. Also notice the fact that voice acting is very good. Fashionable to say high quality, for the game of actors.
PS … If you tell me how to make normal screenshots through Wine in Fulskrin I will be very contemptuous =)
To install Uncen:
, run the XChange2_uncen.exe file that lies in the folder with game. And specify the path where your game is installed.
Notes: If someone has any problems with unpacking, then open it with any archiver.