[708.4 MB] Imouto de ikou / Forbidden Love / Plenty of Pretty Sisters / Forbidden Love (Nakajima Hiroaki, Green Bunny) (1-2 of 2) [UNCEN] [2003 Comedy, Harem, Aliens, SCI-Fi, Straight , Masturbation, Oral, DVDRip] [JAP / ENG / FRA / POR / POL / RUS]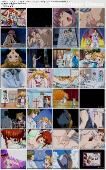 妹 で! Imount de okou / forbidden LovePlenty of Pretty Sisters / Forbidden Loves produced: 2003 06/26/03 09/25/03
Genre: Comedy, Harem, Aliens, SCI-Fi, Straight, Masturbation, Oral
Series: 1-2 of 2
Duration: 2 * 30 min
Censorship: None
Voice: Japanese Original
Subtitles: English, French [HR], Portuguese [LA], Polish [NYAN] ,
Subtitles: Russian [Torrent Ivanivanych] [MIK] Built-in shuts off.
Director: Nakajima Hiroaki
Studio: Green Bunny
Description: Description in Russian: When her family was overthrown in the state coup, Princess Majuk went to the ground to recharge the "absolute weapon". After studying the behavior of earthlings, she decides to recruit one of them, a college student by the Joyshis, butSmashed when landing on its roof. Taken hostage by Ioshizami, rinsing her brains, and she begins to think that he is his younger sister. Fortunately, Ioshiza falls in love with Mayuku and decides to help her mission. (Guess which method does it use?)
Description in English: WHEN HER FAMILY IS OVERTHROWN IN A COUP D'ÉTAT, Princess Mayuka Is Sent to Earth to Recharge The Ultimate Weapon. After Studying The Mating Behaviors of Earthlings, She Decides to Enlist The Help of One Of Her Research Subjects, College Student Yoshizumi, But Crash-Lands on His Roof. Taken Hostage and Shot With Her Own Gun by Yoshizumi, She Is Brainwashed Into Thinking She Is His Young Sister. Fortunately, Yoshizumi Grows Fond Of Mayuka and Decides to Help Her With Her Mission: To Awaken The Powers of Akiho – THe Red-Haired, Green-eyed, Appetite-Driven Ultimate Weapon – Using "Primitive Stimulation".
Video quality: DVDRip by [Torrent Ivanivanych]
Video format: MKV
Video: MPEG4 Video (H264 ) 708×480 29.970 FPS, 1199 Kbps, 1530 Kbps.
Audio: Dolby AC3 48000Hz Stereo 224 Kbps.