[713.8 MB] Amy to Yobanaide / Do not call me Eymi (FUKUMOTO KAN, Triple X) (Ep. 1-2 of 2) [Cen] [1997 Comedy, Romance, Non-Blood-Related Siblings, Yuri, Rape, Bondage, WHIPPING, DVDRip] [JAP / ENG / RUS]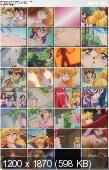 エイミー 呼ば ない で で っ ♡
Amy to Yobanaide
Do not call me by Eymi
Year of production: 1997
Genre: Comedy, Romance, Non-Blood-Related Siblings, Yuri, Rape, Bondage , Whipping
Series: EP. 1-2 of 2
Duration: 2 * 30 min
Censorship: yes
Voice: Japanese Original
Voice: Amateur (single-haired)
Subtitles: English external SRT
Subtitles: Russian [Narru & alexmalkavian] External SRT
Director: FUKUMOTO KAN
Original author: C`s Ware
Studio: Triple X
Description: Many Hentai TV series, by definition, begins with the place where it ends anime. From the point where the main action of the plot ends, and the fact that the viewer would passionately crave to see further in the relationship of the main characters, it should be shown far over midnight. Here is the first scene of HyungTai ovashka "Amy to Yobanaide" begins under the dome of the church, combining the legitimate bonds of marriage of the main characters, Hayai and Tomomy. Summary brother and sister have gained their happiness … until the insurrection of the main character. Yes, yes – it was just a dream.
At the main heroes of this ovashki, in addition to almost blood kinship, they still have a lot in common. They were born on one day, a year ago, they remained round orphans, they learn in the same class and live under one roof. Unlike generally accepted in anime, the norms of behavior, household houses Tomomy. He prepares, erases, removes. In general, it makes everything to ease the life of a adorable sister. And the picture is completed by the fact that the hey themselves has long been pushing to his brother far from nursing love, planning to give him a very intimate gift to his common birthday …..
Extras. Information: The Ministry of Health warns: Watch Route is dangerous for your health !!!!!!!!
Video Quality: DVDRip
Video Format: MKV
Video: MPEG4 Video (H264) 720×480 23.976 FPS ~ 1300 Kbps
Audio: AAC 48000Hz STEREO 161 KBPS [JAP]
Audio: MP3 44100Hz STEREO 256KBPS [RUS]