[77.2 MB] [Misc] SALTYICECREAM (SALTICECREAM) [ANIMATED, CARTOON] [GIF, PNG] [ENG]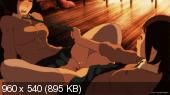 SALTYICECREAM
Author: Saltyicecream
Distribution type: Misc
Genre: GIF, ANIMATED, Cartoon
Language: English
Page Resolution: 1920×1080 – 250×188
Number of Pages: 68
Format : GIF, PNG
Description: Hand-drawn GIF and just piccchi.
On different themes.
It looks beautiful, well, I would still, rice.