[774.3 MB] Forward Ho (Nyimiidan) [CEN] [2016, JRPG, Fantasy, Netorare / NTR, Milk, Naughty, Pregnant] [jap]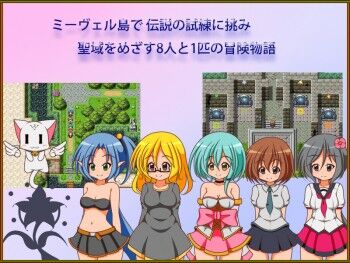 Forward Ho / 進む 先 に ある もの
Year of release: 2016
Release Date: 2016/10/09
Genre: JRPG, Fantasy, Netorare / NTR, Milk, Naughty, Pregnant
Censorship: Yes
Developer / Publisher: Team Niimii
Platform: PC / Windows
Type of publication: Original (licensed)
Tabletka: Not required
Language of the game: Japanese
Interface Language: Japanese [123 ] Voice Language: Japanese
System Requirements (Minimum):
CPU: Athlon / Pentium 200 MHz
RAM: 512MB; VRAM: 128MB; HDD: ~ 600 MB
RPG TKOOL VX ACE RTP
Description:
Latest Ver1.13
———————- ————–
——————————— —
WHEN THE KING OF GALOX CASTLE SENT HIS SECOND DAUGHTER FIO
TO THE ISLAND OF MIEVEL TO CONFIRM THE TRUTH OF A LEGENDARY FLOWER,
FIO TOOK VOYAGE WITH SEIN (NAMECustomizable) But ……
Also in their Party Was Sein's Young Sister Litty.
MIEVEL WAS SEIN'S BIRTHPLACE …… Upon His Return He Met Takuto and Syuzel
And Began a Legendary Challenge AT "The Tower of First and Last" …
A Challenge Regarding The Legendary Star Flower …
The grown party was joked by Three Girls, Loremi, Rumil and Lufalia,
and Nekoko The Cat WHO COULD NOT RETURN HOME.
8 Persons, and 1 Cat, Begin An Adventure In The Sacred Tower.
———————- ————–
LewDness Affects The "LewD" Factor
Creampies Have A Percentage Chance of Pregnancy
The Protagonist's Desire Level Can Lead
to Interesting Events in The Night ……
Fall in Love with Someone, Make Love, Experience Heartbreak and Loss,
Play At the Brothl, PLay with Lady Npcs, Anything Goes, This Is Your Narrative!
Watch Out, This Time Losing Battles Results in a Game Over!
—————— ——————
—————————– ——-
Latest Trial Ver1.02
Bug Fixes and Updates May Be Added.
Recommend Purchase with Dlsite Account for Updates.
Requires RPG TKOOL VX ACE RTP (Free).