[797 MB] Tokio Kidou Police / Tokio Private Police / Tokyo Private Police (Higashimori Hajime, Green Bunny, Dandelion) (Ep. 1-2 of 2) [UNCEN] [1997 Comedy, Police, Yuri, Straight, DVDRip] [JAP / ENG / RUS]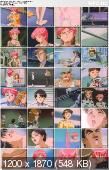 Tokio 機動 ポリス | Tokio Kidou Police
Tokio Private Police
Tokyo Private Police
Year of production: 1997
Genre: Comedy, Police, Yuri, Straight
Series: EP. 1-2 of 2
Duration: 2 * 30 min
Censorship: None
Voice: Japanese Original
Voice: English Professional (full duplication)
Voice: Russian amateur (one-haired) [123 ] Subtitles: English external SRT
Subtitles: Russian external ASS / SSA
Director: Higashimori Hajime
Studio: Green Bunny, Dandelion
Description: Japan 2034 years. Violence and crime in every corner of the Metropolis of New Tokyo. Each resident of this city is drawn into some crime all the time. From the fact that the poverty is growing, people pay less taxes, and therefore the police have been reduced so that now sheDepends on private security firms that follow the order. It became quite common to hire these private firms for their own protection. One of them is Tokyo Private Police.
Video quality: DVDRip
Video format: MKV
Video: MPEG4 Video (H264) 720×480 (4: 3) 24.00 FPS ~ 1700 kbps
Audio : AAC 48000Hz STEREO 162 KBPS [JAP]
Audio: MP3 48000HZ STEREO 128KBPS [RUS]
Audio: Vorbis 48000Hz Stereo 109 KBPS [ENG]