[8 MB] Oneday (deys-studio.blogspot.ru/) [Uncen] [2016, Adv, Oral] [rus]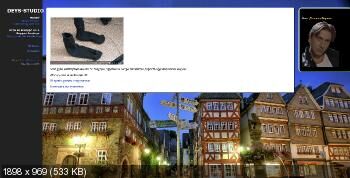 Oneday / Mexican Skinhead Exhibitionist on the Evok planet
Year of release: 2016
Release Date: 2016/03/30
Genre: Adv, Oral
Censorship: None / There is a patch for removal
Developer / Publisher: http://deys-studio.blogspot.ru/[123
Type of publication: Original (licensed)
Tabletka: Not required
Version: 1.0
Game Language : Russian
Interface Language: Russian
Voice Language: Russian
System Requirements (Minimum): HDD 8MB
Description: What can be a clinner and habitually than to live a day?
All boring and not Interestingly, we wake up, eat, go to work, we meet different people.
Sometimes days are interested in, sometimes boring, but they are always filled with events. Every day, we live a little story of your life.
But people inWe stretched the same, experiencing your day, your little adventure. And these stories are woker in a tight rope, the name of which life.
Do you think that a simple guy Jim thought about it when he woke up? Yes, nothing like that! Most likely he thought about the fact that vodka in the club was pale, and champagne with absinthe, not the best cocktail, although yesterday it seemed a good idea. So, Jim's Day began, but he also began for other history participants.
Extras. Information:
The game was made for the contest Albedo 2016.
All as usual the game is not recommended to people prone to grammar Nazism. People are tolnant, your feeling can be affected. People awaiting porn games, porn.
By still not understandable to me the reason to the Ukrainians (my first game caused such a bangs of EmotoThey, that I still have a shit on the door, I am a moskal and racist)
Gypsies the cognichly game is not recommended, I hate them and do not hide it.
Not recommended to those who are too lazy to read. It is not recommended that those whom simply turns from the image of real women, and only the biglast Tonogi Anime kami will attract their minds, I use the photo.
Well, so! If one of the above categories of citizens you do not feel, then I probably correctly, I did it for myself!